Welcome to Tom & Jana's
Puerto Rico Journal!
A week exploring the most American place in Latin America
From September 30 to October 7, 2003, we drove "The Continent of Puerto Rico" to see what this island is all about. Puerto Rico is without question a beautiful island, and depending on what you look for in a vacation, you may love it or hate it. We came away with a bit of both sentiments.
For those looking for beautiful beaches, tap water that is safe to drink, service workers that understand English, and all the comforts of home, Puerto Rico is for you. We were looking for Latin America with an American twist, and that's what we found, much to our dismay. Veteran Latin American travelers will be disappointed that the city centers, while laid out in familiar form, roll up their sidewalks in the evening and leave nothing for the sport of people-watching. Burger King and Wal-Mart have sucked the life from the zócalos. Like other U.S. cities and towns, the centers of activity have moved a few miles away, and as a visitor, it is difficult to find it and get in on it.
You will need a car in Puerto Rico. Without one, you will only see a fraction of what you would see otherwise. Drivers here are very aggressive, but at least everyone is paying attention. We chose a compact car, a Toyota Echo, which worked fine for us, though we had to use a low gear a few times just to get it to move on some of the steeper parts...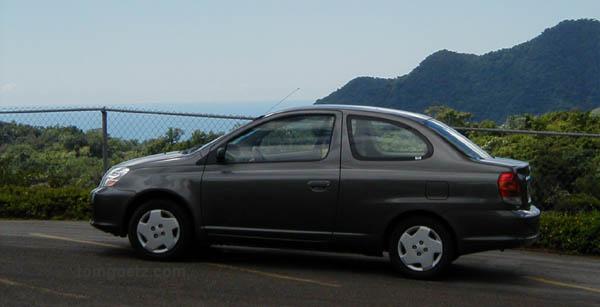 Smoky, the rent-a-car
Our route is in blue.
Click the map to zoom in on our route.
(This is a very large file.)
CLICK HERE to start the journal at the beginning, or use the detailed index below to jump to a specific area.
Day 1 Knoxville to Atlanta to San Juan, Puerto Rico
Day 2 San Juan to Quebradillas, via the north coast and Karst Country
Day 3 Quebradillas to Mayagüez
Day 4 Mayagüez to Adjuntas, via La Ruta Panorámica
Day 5 Adjuntas to Barranquitas, more Ruta Panorámica
Day 6 Barranquitas to San Juan, via the south coast and El Yunque
Day 7 Old San Juan
Day 8 San Juan to Atlanta to Knoxville