Welcome to Tom and Jana's 2006 Oktoberfest Journal!
A whirlwind trip to selected sites in Germany, Austria, and Switzerland, with bonus small ventures into Italy and Liechtenstein.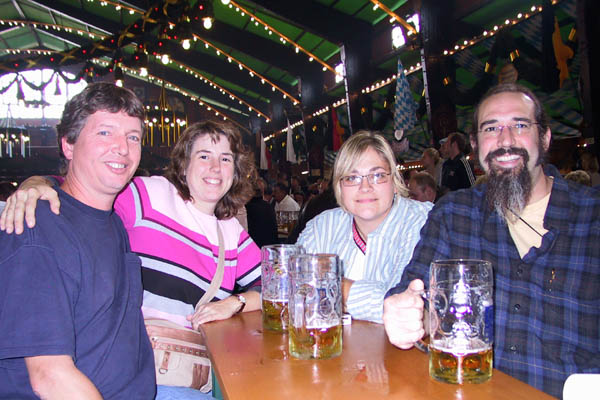 Tom, Jana, Mooney, and Brian
Hello to family, friends, and visitors! This is Jana. Several months ago, my good friend Jennifer Mooney said she wanted to leave her workaday life for a week or two and check out Europe. Having hardly been anywhere, she invited my brother Brian and my husband Tom and me to come along. Brian was game if the trip included Oktoberfest in Munich, and Tom and I weren't about to pass up that much fun.
Mooney and Brian flew from Oklahoma City to Amsterdam, Netherlands. Tom and I flew from Knoxville, Tennessee, to Munich, Germany. We all met in Augsburg, 45 minutes outside of Munich, on Monday, September 18, 2006, where this story begins...
The Swiss Alps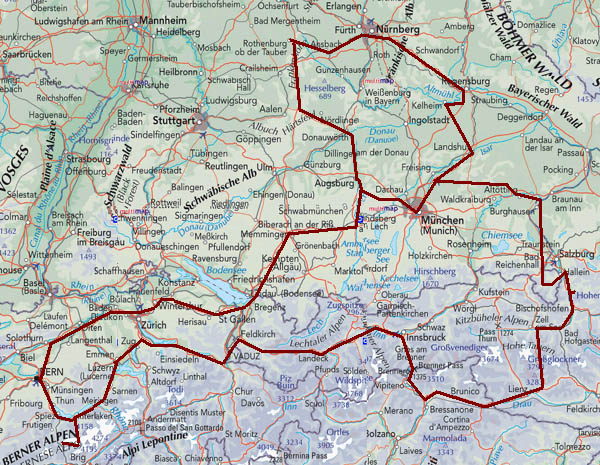 Our route in red
Use the detailed menu below to jump to any part of our journal.
Day 1 Augsburg, Germany
Day 2 Munich Oktoberfest!
Day 3 Munich Oktoberfest Revisited!
Day 4 The Northern Romantic Road, Germany
Day 5 Schwabach, Danube Gorge, and Landshut, Germany
Day 6 Fucking, Austria and Berchtesgaden, Germany
Day 7 Eisriesenwelt Höhle and Grossglockner Hochalpenstrasse, Austria
Day 8 Italy, Liechtenstein, and Lucerne, Switzerland
Day 9 Lucerne to Mürren, Switzerland
Day 10 Schilthorn to Mürren Alpen hike, Switzerland
Day 11 Mürren, Switzerland to Augsburg, Germany
Day 12 Augsburg, Germany to Knoxville, Tennessee