Welcome to Tom and Jana's Gulf Coast, Mexico, and Mardi Gras Journal!
A 3,225-mile road trip in February 2007 along the U.S. South Coast to the Rio Grande Valley, with a two-night stopover in New Orleans for Mardi Gras!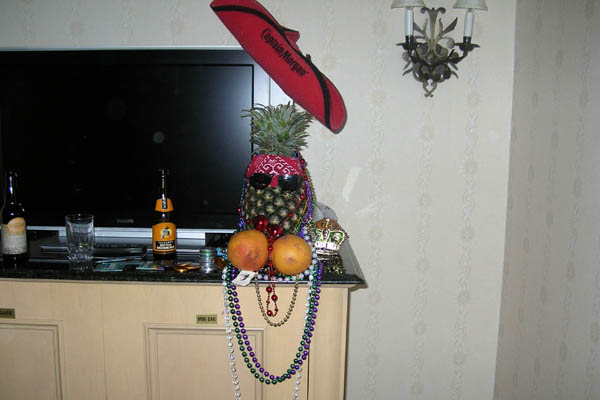 Pedro the Pineapple offers you his protection
Jana's dad, Ed, and his wife, Joan, have been providing aid to the residents of Nuevo Progresso, Mexico, for many years, first with the Oklahoma United Methodist Conference, and later as private individuals. This year, they invited Tom and Jana (that's me), along with some other family and friends, to join them in building houses for two needy families.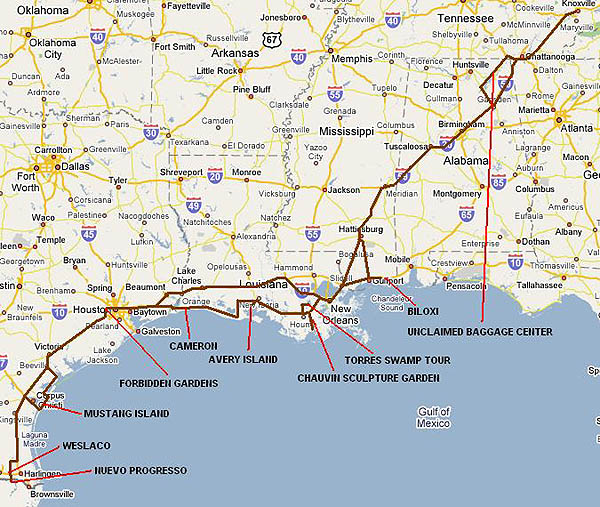 Our route in brown
On our journey between Knoxville and Mexico, we surveyed damage from 2005 hurricanes Katrina and Rita along the Mississippi and Louisiana coastline, went on a swamp tour, visited the TABASCO factory, and enjoyed as many oddities as possible, the pinnacle of odd being our stay in New Orleans during the Mardi Gras celebrations.
Use the detailed menu below to jump to any part of our journal.
Day 1 Knoxville, Tennessee, to Meridian, Mississippi
Day 2 Meridian, Mississippi, to Thibodaux, Louisiana
Day 3 Exploring Cajun Country
Day 4 Thibodaux, Louisiana, to Cameron, Louisiana
Day 5 Cameron, Louisiana, to Victoria, Texas
Day 6 Victoria, Texas, to Weslaco, Texas
Day 7 Rosie's Colonia, Nuevo Progresso, Mexico
Day 8 Framing House 1
Day 9 Finishing House 1, Framing House 2
Day 10 Finishing House 2, and the Guatemalan Barrio
Day 11 Weslaco, Texas, to Orange, Texas
Day 12 Orange, Texas, to New Orleans, Louisiana
Day 13 New Orleans Mardi Gras Revisited
Click here to see our videos from this trip